Ive being dying to try out this yummy honey cake recipe for a while now, it was in a recipe book that I bought for my Dad for Christmas. I meant to copy the recipe down before I gave it to him.....but didn't!! So I waited patiently until he opened it and promptly grabbed it back to have the recipe!!!



It was so easy, virtually no mixing, just adding the ingredients until it looks like a batter.
And just look how it turned out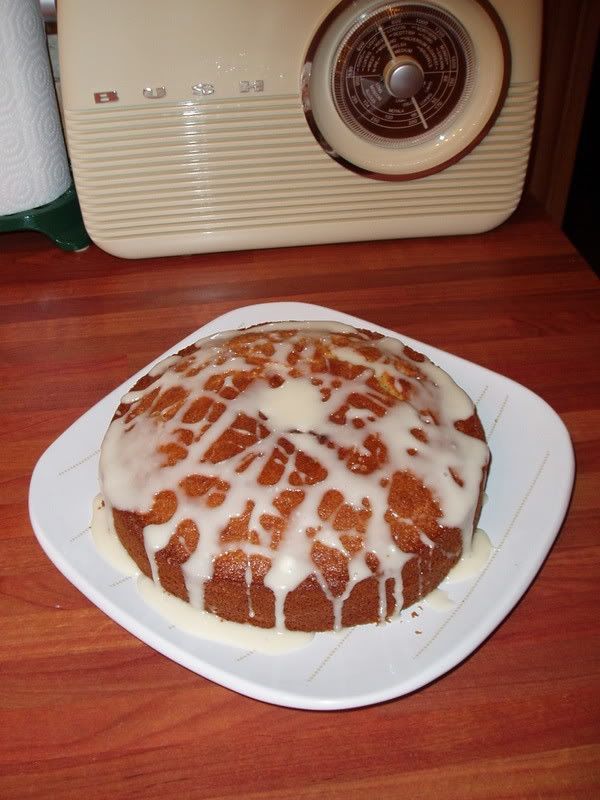 I managed to take a quick pic before everyone round here got their mitts onto it!!!

Here's the recipe:
HONEY CAKE
175g Clear honey
150g Butter
80g Light muscavado sugar
2 Eggs (beaten)
200g Self raising flour (sifted)
Icing:
55g Icing sugar (sifted)
1tbs Honey

Pre-heat oven to 180c, Butter an 18cm/7in cake tin and line with grease-proof paper
Put honey, butter & sugar into a pan with 1tbs water & heat gently until melted
Remove from heat and transfer to a bowl, mix in eggs and flour
Spoon into the cake tin and bake for 40-45 mins until springy, cool and turn out
While the cake is still warm, make icing by mixing icing sugar, honey & 2/3 tsp hot water
Spoon over cake
This has to be the moistest cake I ever had! It was delicious!