OMG March already! Where is the year going? Ive been a busy bee lately making lots of yummy thing for my ebay shop and Im also going to take the plunge and get on Etsy in the next week!
I have spent FAR too much time on a favourite website of mine, MSE, where we have the most amazing "Shabby Chic" thread going from strength to strength, so no wonder my blogging has been some what neglected!!

Hello to all fellow MSE'ers!!!!!!!

x x x

I LOVE banners! So created this "DREAM" banner...isnt it soooo romantic?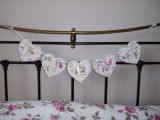 Im also loving vintage china at the minute and I hate to see it not being used so I put it to another good use and filled it with vintage style bunnies and spring-y type things!




All items are for sale in my ebay store
Hugs xxx